Pharmacy Samples for Healthcare Professionals
AlphaScrip's pharmacy based pharmaceutical sampling program is an excellent alternative to the traditional prescription sample methods, facilitating the delivery of samples (including controlled substances, expensive therapies and products with limited supply). Through prescription assistance services, the physician provides the patient with a voucher for a specific trial quantity of a prescription sample. These samples for healthcare professionals to administer can then be filled by the pharmacy at no charge to the patient. This is highly beneficial for patients, as pharmacies will check for potential drug interaction issues, and will also provide pharmacy counseling when the sample is dispensed.
Pharmaceutical manufacturers can easily deliver these voucher samples for healthcare professionals. This is completed through our pharmaceutical sampling program to physicians in group practices, hospitals, and MCOs through the same traditional marketing methods, such as sales representative, detailing and direct mail. Vouchers also provide the opportunity to introduce sampling into vacant territories, "no sample" physician offices, and physicians not called on. Additionally, pharmaceutical manufacturers can also deliver vouchers directly to patients via downloads from branded Internet sites, email marketing campaigns, and other DTC vehicles.
The benefits of a prescription assistance services that provided samples for healthcare professionals offered by AlphaScrip are significant:
Prescription assistance services financial costs are tied directly to prescriptions filled.
Ensures the sample product is delivered to the intended patient; improving tracking, accountability, and sampling data
Need for packaging, shipping, tracking, storing, and accounting for sample medications used by the sales team is eliminated
No risk of sample products expiring in the field or physicians' offices as all samples are provided by stocked pharmacies
Dispensed through traditional pharmacy channels to allow for patient consultation, and DUR (drug utilization review)
Opportunity to reinforce brand awareness and loyalty with physicians and patients.
If you are interested in a pharmaceutical sampling program for your company, contact AlphaScrip, who will design, produce, and manage a voucher program that works for your brand.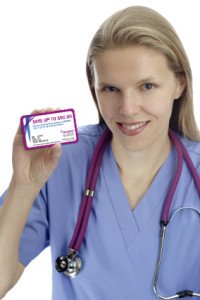 Copay Offset Assistance Programs
An AlphaScrip prescription assistance programs provides instant savings to a patient at the pharmacy by reducing out-of-pocket expense. The patient simply presents the AlphaScrip copay assistance form to any pharmacist receiving the savings immediately.
AlphaScrip's pharmaceutical marketing strategies create the ability to customize program business rules. Our pharma marketing agency has real-time 24/7 visibility of program claim activity which provides an extremely effective tool to brands facing formulary challenges by equalizing tier positions.
AlphaScrip's 25-plus years of administering provides clients with insightful and effective program administration to help drive brand performance.
An AlphaScrip allows patients start with the prescription discount for their therapy and helps them continue their therapy improving medication adherence.
Medical adherence is a branded patient offering designed to get patients started on therapy.
Multi-use offer with the ability to provide varied business rules drives ongoing refills.
Ongoing patient messaging providing disease-state education, refills reminders, and dispensing pharmacy engagement.
Since its founding in 1991, AlphaScrip Patient Adherence programs have driven prescription fills and market share while producing significant ROI results.
Presciption Assistance Services
With branded products facing an increasingly difficult payer market, along with the development of new specialty products with tighter FDA requirements and insurance requirements, AlphaScrip has developed a full suite of patient services to help brands drive prescription fills. The AlphaScrip offering includes:
Patient Reimbursement

– Integrated product solution providing copay assistance with verification of benefits and PA support

Dispensing Pharmacy

– Nationwide pharmacy supporting existing and new clients, providing a range of prescription assistance services, including brand friendly pharmacy partner (DAW, No Switches, No Physician Call Backs), pharma sales rep support, verification of benefits and PA support, and integrated copay assistance providing all eligible patients help with prescriptions along with customized business rules

Direct to Patient Offerings

– Provide benefit directly to patients when product is not covered

Physician Office Co-pay Support

– Point-of-Service co-pay offset for products covered under medical benefit
If you are interested in additional information on these services, contact the experts at AlphaScrip, pharmaceutical marketing company, to discuss.
Additional Programs and Services from Alphascrip
As an innovative leader with decades of pharmaceutical marketing strategies, AlphaScrip offers the following additional programs and services to help support each brand team's promotional efforts and goals:
Vacant territory and "no see" programs
Patient assistance programs
eVoucher program offerings
Mobile couponing and location services (iPhone & Android applications)
Alternative program funding
Graphic design and materials production
Fulfillment and warehousing
Pharmacy and patient call center services
Internet-based response and integration
Customized data integration and reporting