At AlphaScrip, we blend the latest technological tools with a highly skilled, experienced team of professionals to develop innovative marketing and promotional programs that work. Discover how our program offerings can help pharmaceutical brands to develop a competitive advantage.

Pharmacy Based Sample Voucher Program
AlphaScrip's pharmacy based sample voucher program is an excellent alternative to the traditional sampling method, facilitating the sampling of controlled substances, expensive therapies and products with limited supply. Through this program, the physician provides the patient with a voucher for a specific trial quantity of a sample product, which is then filled by the pharmacy at no charge to the patient. This is highly beneficial for patients as pharmacies will check for potential drug interaction issues, and will also provide pharmacy counseling when the sample is dispensed.
Pharmaceutical manufacturers can easily deliver these sample vouchers to physicians in group practices, hospitals and MCOs through the same traditional marketing methods, such as sales representative detailing and direct mail. Vouchers also provide the opportunity to introduce sampling into vacant territories, "no sample" physician offices and physicians not called on. Additionally, the program allows pharmaceutical manufacturers to bypass physicians, delivering vouchers directly to patients via downloads from branded Internet sites, email marketing campaigns and other DTC vehicles.
The pharmacy based sample voucher program offered by AlphaScrip has been a game changer for many of the nation's largest pharmaceutical companies, providing significant time and cost savings.
Sampling costs are tied directly to prescriptions filled.
Ensures the sample product is delivered to the intended patient, improving tracking, accountability and sampling data.
Need for packaging, shipping, tracking, storing and accounting for sample medications used by the sales team is eliminated.
No risk of sample products expiring in the field or physicians' offices as all samples are provided by stocked pharmacies.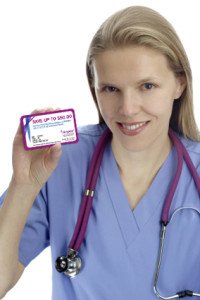 AlphaScrip's sample voucher program provides many benefits, such as those mentioned above, and also creates a strong brand awareness and loyalty between physicians and patients. If you are interested in a pharmacy based sample voucher program for your company, trust in the skilled and experienced professionals at AlphaScrip to design, produce and manage a voucher program that works.

Patient Rebate and Co-Pay Discount Cards
Patient rebate and co-pay discount cards offered by AlphaScrip are a powerful marketing tool for pharmaceutical products, especially those confronting formulary issues as well as new competitive brands and generics. The patient simply presents their rebate and co-pay discount card to the pharmacist when filling a prescription, and pays the lower of either the co-pay or rebate amount. If the rebate amount is lower, a rebate claim is processed upon the filling of the prescription.
AlphaScrip offers flexible rebate and discount program parameters, including point-of-sale, mail-in and online redemption options. The program then delivers such rebates via paper vouchers or branded plastic ID cards, which can offer a onetime prescription fill or multiple prescription fills. This redemption process allows AlphaScrip to collect valuable data for pharmaceutical manufacturers, such as the prescribing physicians and the patients that redeemed the rebates, which can then be used by the companies to improve their marketing efforts.
AlphaScrip's winning patient rebate and co-pay discount card program is an extremely cost effective alternative to free product starter programs, and aids in building strong awareness for your brand.

Compliance & Loyalty Programs
The compliance and loyalty programs at AlphaScrip are expertly designed by pharmaceutical professionals to get patients to start a therapy, and continue with that form of therapy through the refill of their prescription. The key component of the program is providing patients a series of refills at either a reduced rate or with no out-of-pocket expense.
Pharmaceutical manufacturers have had huge success with AlphaScrip's compliance and loyalty programs, observing notable increases in the number of patients that continue to refill prescriptions of their pharmacy products. The following are some of the most valuable characteristics built into the compliance and loyalty programs at AlphaScrip, which can be attributed to the advancement of the sales and marketing goals of some of the nation's most prosperous pharmaceutical companies:
Branded identification cards that authorize a co-pay discount.
Facilitation and subsequent patient communication regarding compliance, persistency and product education, which encourages brand loyalty.
Integrated, turnkey solutions encompassing all program elements.
eVouchers on Demand
The eVouchers on demand program at AlphaScrip allows for the evaluation of a prescription when it is submitted in the pharmacy system, automatically providing cost savings to qualified patients at participating pharmacies. Additional pharmacy communication and applications are completed within the existing workflow, meaning workflow interruptions are reduced and a significant amount of time is saved for both the pharmacist and patient.
Pharmacies that use eVouchers often receive an increase in the number of physician referrals as the cost savings passed onto patients usually encourages them to remain in compliance by continuing to fill their prescriptions. The program also works well in addressing targeted formulary challenges as well as brand-to-generic switches. If you are interested in eVouchers, contact the pharmaceutical experts at AlphaScrip to discuss the design and production of vouchers that will work best in achieving the goals for your products.
Additional Programs and Services
As an innovative leader with decades of pharmaceutical industry experience, AlphaScrip offers the following additional programs and services to ensure that each customer's individual pharmacy-based marketing and promotional goals and preferences are met:
Vacant territory and "no see" mail programs
Patient assistance programs
Wireless mobile couponing
Alternative program funding
Graphic design and materials production
Fulfillment and warehousing
Pharmacy and patient call center services
Internet-based response and integration
Customized data history reporting